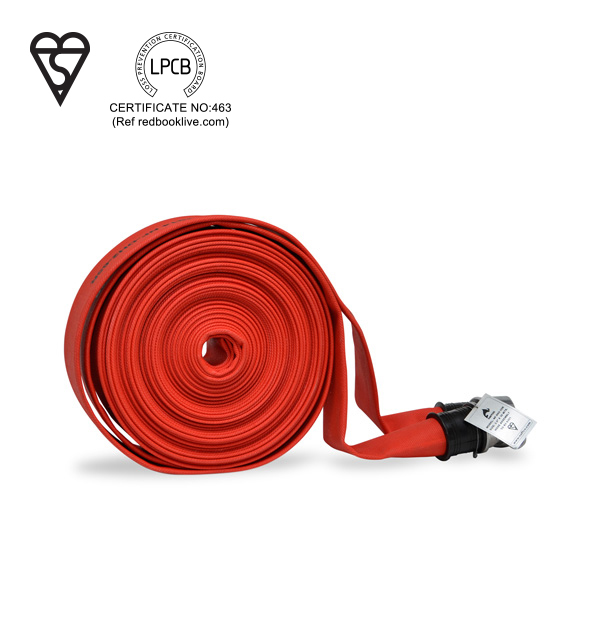 Single Jacket Hose - Kitemark & LPCB Approved, Type 2
Single jacket fire hose consists of an impermeable elastomeric lining, a synthetic fibre reinforcement and externally applied elastomeric coating to the reinforcement. Delivery hoses are non-percolating lay flat type used in fire fighting purpose. Hoses are suitable for use with couplings with the requirements of BS 336:2010 standards. Hose is intended for use at working pressure not exceeding 15 bar. Delivery hose are manufactured to comply BS 6391: 2009 Standards.
Model No.
NF-DH2-65R
NF-DH2-65W
Diameter (Inch.)
2.5
Service Test Pressure (Bar/Psi)
15/217
Hydrostatic Strength Test Pressure (Bar/Psi)
50/725
Standard Compliance/Approvals
BS 6391: 2009/ Kitemark & LPCB
BSI Kitemark and LPCB Certified.
Light weight and flexible.
Hose belongs to Type 2 with Elastomeric lining, Synthetic fibre reinforcement and elastomeric coating on the reinforcement.
Hose give good protection against the absorption of liquids and resistance of the reinforcement.
Anti rot and anti twist.
Hose with couplings are wound by Galvanized mild steel / SS wire.
Hose Data
| | |
| --- | --- |
| Hose | Type 2 |
| Available Color | Red, White |
| Standard Length | 25/30 Meters |
Applications
Industrial and rural fire brigades as well as building protection.
For general industrial, commercial and civil engineering applications.