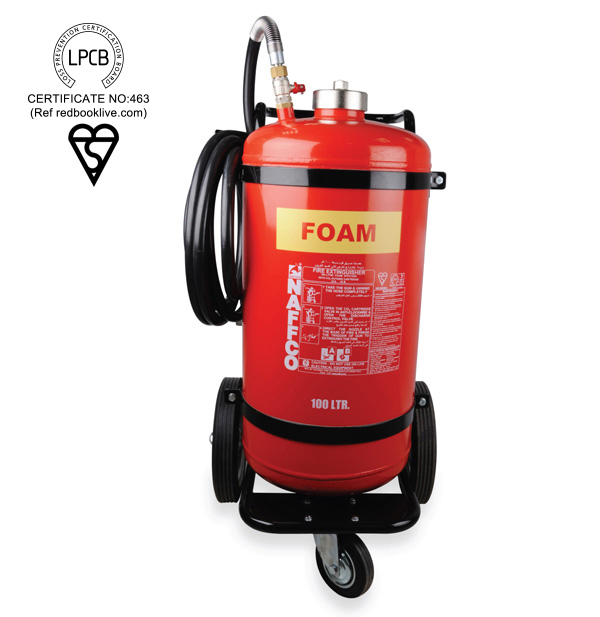 Mobile Foam Fire Extinguishers Kitemark / LPCB Approved
Royal Fire Protection Mobile external cartridge operated Foam fire extinguishers are characterized by their high performance and simple method operation. The extinguisher contains high performance extinguishing agent 6% AFFF foam and thus has achieved highest fire rating.
Royal Fire Protection Mobile Foam extinguishers are most suitable for fires involving flammable liquids and freely burning materials such as paper, cloth and wood.
The fire extinguishers are designed to comply all the specification requirements of BS EN 1866-1.
Kite Mark and LPCB approved for different capacity extinguishers.
Agent used is AFFF (6%) Synthetic Aqueous film forming foam for effective fire extinguishment.
Incorporated with high pressure CE approved C02 cylinder as propelling agent.
Ready for instant use and simple to operate.
Cart and cylinder are made of rugged steel and welded to meet extreme use conditions.
Easily transportable.
Highly visible pressure – indicating gauge.
Externally coated by Electrostatic powder painting after shot blasting ensures maximum corrosion resistance.
Internally coated by electrostatic block powder using resin for corrosion resistance.
Large Brass, nickel chrome plated cap for ease during refilling the agent.
Cylinder assemblies are designed for easy maintenance by mounting it separately on steel frame and thus can be separated by just removing the steel clamps.