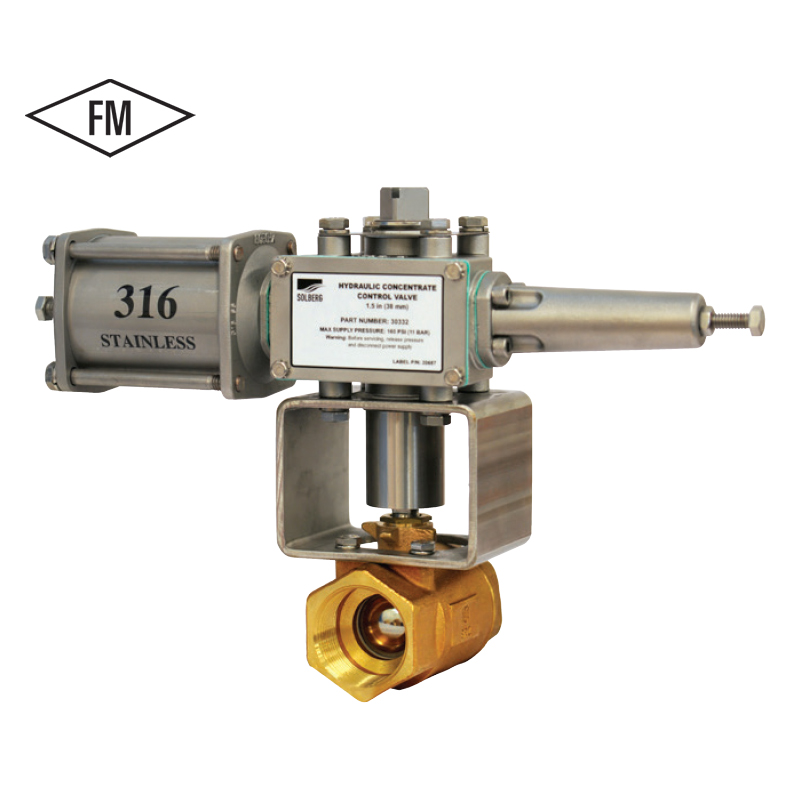 Hydraulic Concentrate Ball Valve
Hydraulic Concentrate Ball Valves come in standard sizes ranging from 1.0 in to 2.5 in (DN25-DN65) to match the concentrate inlet thread (or flange) size on Royal Fire Protection Proportioners and Inline Balanced Pressure Proportioner (ILBP) assemblies.
Each ball valve consists of a factory assembled and tested stainless steel or bronze ball valve, stainless steel hydraulic actuator, and mounting kit attaching the actuator to the ball valve. The actuator has a position indicator for manual reset.
The Hydraulic Concentrate Ball Valve shall consist of various hardware components that have been factory assembled and tested including:
Stainless steel or bronze ball valve with mounting pad designed for a maximum of 600 psi (41 bar) Water Oil Gas (WOG).
Ball valve shall be fitted with a stainless steel ball, stem and packing nut. Valve seats shall be of RPTFE material and stuffing box ring.
Hydraulic actuator is approved by the manufacturer for using water as the medium to operate.
The actuator shall have a position indicator and have the capability for manual override. The actuator shall be designed to operate the valve with a minimum of 30 psi (2 bar) and maximum 160 psi (11bar) water pressure and shall contain no external moving parts which could cause fouling of adjacent equipment components, injury to personnel, misalignment problems common to external linkage systems, or potential for disengagement caused by tampering.
Mounting kit shall securely attach the hydraulic actuator to the ball valve.