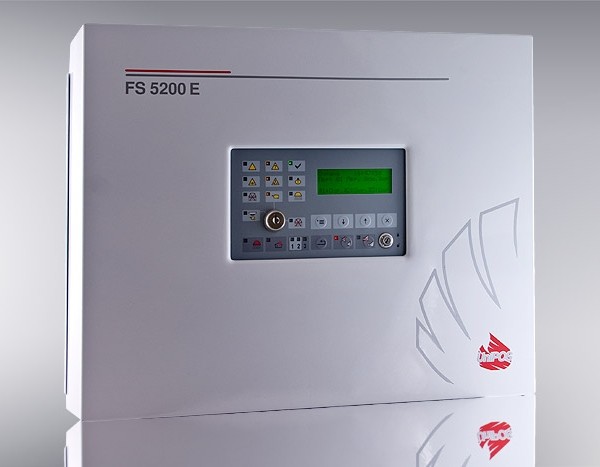 Fire Extinguishing Control Panel FS5200E
FS5200E is already certified by EVPU!!!
The Fire Extinguishing Control Panel is designated for fire protection, monitoring and control of systems for active extinguishing – gas, powder, aerosol, water, etc. After processing the signals from the automatic fire detectors and/or manual call points the Control Panel makes commands to the executive devices for extinguishing, sound-light signalers, air conditioning and ventilation devices, etc. The Control Panel could exchange data with a repeater, PC or another intelligent device via RS 485 interfaces.
Functional data
– Control of the lines, the controllable inputs and outputs for Fault condition and automatic resetting
– Control of the lines for removed fire detector and automatic resetting
– Option for setting the evacuation time from 0 to 5 minutes
– Option for setting the time when the extinguishing device is switched on from 10 seconds to 5 minutes
– Built-in sounder for Fire condition and Fault condition with the option for switching off
– Built-in clock for astronomic time
– Test modes and setting option
– Power independent archive of 100 events registered by the Control Panel, containing the type, date and time of the event
Technical data
FIRE ALARM LINES: 3
– with extinguishing control: 2
– without extinguishing control: 1
MAXIMUM NUMBER OF FIRE DETECTORS IN A LINE: 32
CONTROLLABLE INPUTS FOR:
– manual extinguishing activation: 1
– extinguishing keeping: 1
– extinguishing disable: 1
– mode selection: 1
– monitoring the extinguisher outflow: 1
CONTROLLABLE OUTPUTS RELAY (24±3)V DC:
– for sounders in Fire condition: 1
-for sounders in Extinguishing status: 1
-for Extinguishing switching on: 1
RELAY OUTPUTS SWITCHING 3À/125V AC, 3A/30V DC:
– for Fire condition: 3
– for Extinguishing: 3
– for Fault condition: 3
OUTPUTS OPEN COLLECTOR TYPE: 3
SIGNALIZATION OF REGISTERED EVENTS:
– sound: built-in sounder
– light: LED
– text messages: LCD display, backlit
POWER SUPPLY:
– mains: 220/230V AC, 50/60 Hz
– backup battery: 2x12V DC, 12 Ah